Welcome back to Manicure Monday! As you noticed, I took the holiday weekend off from swatching, so we have some nail art to check out this week. My base color is Wet 'n Wild's Gray's Anatomy, and my freehand painting was done with a striping brush and OPI's We'll Always Have Paris. All nails are topped with one coat of Seche Vite top coat.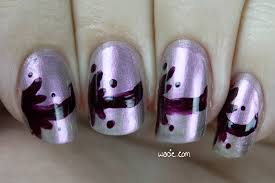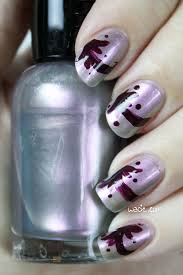 I'll just get this out of the way: I don't know how I feel about the freehand. I'm a little embarrassed that I still suck at hand-painting, but in a way, it's sort of charming. I wanted something simple but uniform, but it's a bit irregular. It doesn't look as irregular in real life as it does in photos, so I feel a little weird about that. I never do this stuff, so it's really no wonder it's not perfect. Maybe it's okay that it's not perfect. It looks arty-crafty and like it was done by a real person.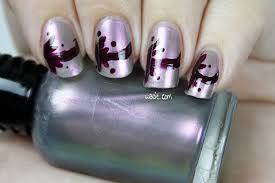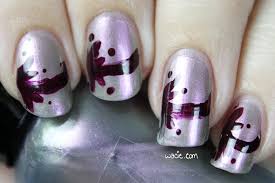 We'll Always Have Paris lends a lot to the DIY mani look. These burgundy/wine polishes are always a little translucent, and I guess that's why there's a lot of unevenness. I just wanted a dark color, something that was as severe as black, that would complement the color shift in the base polish. I think this one worked pretty well.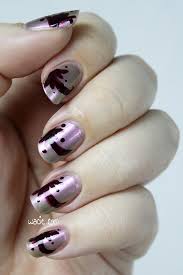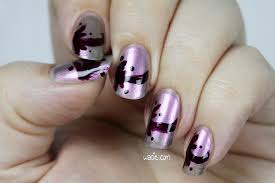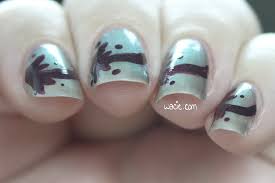 The shift in Gray's Anatomy is the focus of this polish, as it should be. You can totally see past the wonky freehand painting and really enjoy the colors. The writing on the label wore off a long time ago, but I almost forgot this is a Wet 'n Wild Polish. I paid two dollars for it at the most. Not bad for two dollars!
I bought these polishes myself.