Happy Monday, reader! Today's Manicure Monday finds me with very short nails; I went bowling on Saturday night and kind of trashed them. At least they grow back. I went for a mature yet cute look today to remind myself that these are, in fact, not a child's hands. I used Blue-Eyed Girl Lacquer's Newborn Solstice Sun, Essie's As Gold As It Gets, and China Glaze's Angel Wings. All nails are topped with one coat of Seche Vite.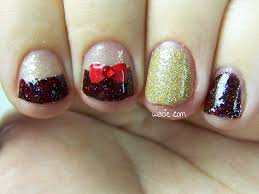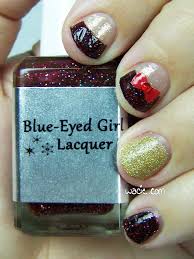 I wore Newborn Solstice Sun on its own quite some time ago when I swatched it. Even though it's gorgeous on its own, I wanted to try something new with it. I went through the bag of tricks: rhinestones and loose glitters, vinyls and striping tapes. I wanted to get really crazy with it. Once my nails were unexpectedly cut down, though, I decided to keep it simple. I'm wearing Newborn Solstice Sun alone on two nails, as well as the darker shade in the half-moon. It's a beautiful polish; the color is so deep, and the glitters add depth and sparkle. This is a huge BEGL favorite for sure.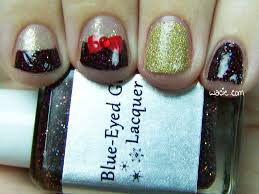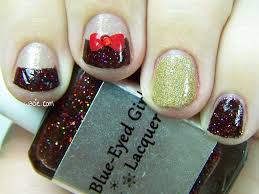 I used Essie's As Gold As It Gets as the undies for my half-moon. It's so soft, you can barely tell I used anything there. I wanted just a hint of sparkle, and that's exactly what I got. I used China Glaze's Angel Wings as an afterthought; I actually had an accent ring finger nail that was just covered with red and gold rhinestones, but it looked too Gryffindor, so I took it off and just used the gold glitter instead. It still looks out of place to me, but at least it's not as ridiculous as the rhinestones were.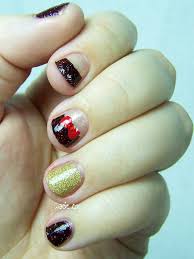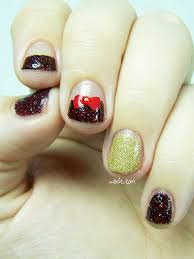 Newborn Solstice Sun was a limited edition polish; other BEGLs can be purchased from the BEGL shop. As Gold As It Gets and Angel Wings are available wherever Essie and China Glaze are sold. I got my rhinestones from Amazon. The red bow vinyl is from Monster Polish as part of their Doctor Who collaboration with BEGL. I always associate the red bowtie with Pee-Wee Herman, though.
I bought these polishes myself.